Caedmon, Hilda, and Bede

Caedmon was an Anglo-Saxon herdsman (basically a serf) who lived at the Abbey of Whitby sometime between AD 650-680. Whitby is a town on the North-East coast of England, in what is now Yorkshire, but at that time known as Northumberland.
The town is on a cliff overlooking the North Sea, and the wind whistles in straight from Russia.
The Abbey was a double monastery and convent - one side for men, the other for women, founded in 657 by St. Hilda, or "Hild", whose father was a nephew of King Edwin of Northumberland.
Hilda was born in 614. When she was a child, her father was murdered, and Edwin brought her up in his court.
When Edwin became a Christian in 627, Hilda and her sister were also baptized.
Her sister married into the East Anglian Royal family, but Hilda chose to become a nun. She was a feisty lady, who would tell kings and bishops what to do. She was one of the participants of the "Council of Whitby" in AD 664, when the Church in Britain decided to conform to Roman customs rather than the Celtic traditions linked to the Eastern Orthodox Church. She died in 680.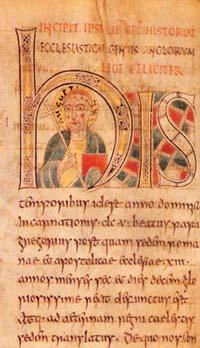 Caedmon was initially an illiterate herdsman at the abbey - he could not read, write, or play a musical instrument, and was embarrassed when the "cithara" (probably a harp, lyre, zither, or crwth) was passed around for the men to play and sing at dinner, so he left the hall and hid in the cow-byre.
This is the setting of the Latin passage from Bede's "Historia Ecclesiastica Gentis Anglorum" (Church History of the Anglian People, Book IV, chapter xxiv).
While asleep, he had a dream in which "someone" (quidem) approached him and asked him to sing "principium creaturarum", (the beginning of created things). Caedmon at first refused to sing, but eventually obeyed, and when he woke in the morning he remembered the song. When Hilda heard what had happened, she tested him to see if the gift were true, and found that he could indeed set scripture to music, so she arranged for Caedmon to become a monk and be educated.
Bede recorded that Caedmon could meditate on a passage of scripture or doctrine, and write a song overnight. Caedmon is probably the earliest known English poet. He may never have learned Latin - it appears that he wrote in an early Anglo-Saxon dialect, which others translated into Latin. About 20 early manuscripts of Bede's History exist; some of them include Anglo-Saxon versions of Caedmon's hymn along with the Latin translation. One of the earliest, shown here, is in the Leningrad Museum; another, shown below, is in the University of Cambridge Museum.
Bede (pronounced Bae-duh) (672-735) was born during the time of Hilda and Caedmon, and lived most of his life in the monastery of Jarrow, which was also in Northumbria, so he was quite near the events of which he wrote. Bede was one of the earliest English historians; he also translated parts of the Bible.
Go here for a longer Latin section of Bede's History

Caedmon's Hymn
Mercian
Modern English
Latin
nu scylun hergan
hefaenricaes uard
metudæs maecti
end his modgidanc
uerc uuldurfadur
swe he uundra gihwaes
eci dryctin
or astelidæ
he aerist scop
aelda barnum
heben til hrofe
haleg scepen.
tha middungeard
moncynnæs uard
eci dryctin
æfter tiadæ
firum foldu
frea allmectig

Now [we] must honour
heaven's ward (guardian),
the architect's might,
and his purpose,
the work of the Father of glory
— as he, the eternal Lord,
established
the beginning of wonders.
He, the holy Creator,
first created
heaven as a roof
for the children of men.
Then Middle Earth
mankind's ward
the eternal Lord,
afterwards appointed
the lands, for men -
the Lord almighty

Nunc laudare debemus
auctorem regni caelestis,
potentiam creatoris,
et consilium illius
facta Patris gloriae:
quomodo ille,
cum sit aeternus Deus,
omnium miraculorum auctor exstitit;
qui primo
filiis hominum
caelum pro culmine tecti
dehinc terram
custos humani generis
omnipotens
creavit.


Caedmon's Hymn, as a footnote to the Latin text in the Moore manuscript (ca. 737) in the Cambridge University Library.

Copyright © 1999 Shirley J. Rollinson, all Rights Reserved

ENMU Station 19
Portales, NM 88130
Last Updated : July 1, 2017